Comparative Border Studies
About
This Initiative will focus on promoting interdisciplinary, comparative research on the making, unmaking, crossing, and fortification of borders – national, colonial, regional, and continental. Our central thematics are organized as follows, broken down by year: 1) Human rights, citizenship, and racialized belonging (Year 1, 2015-2016); 2) Mobility, militarization, and containment (Year 2, 2016-2017); 3) Protest cultures and transnational solidarities (Year 3, 2017-2018). Please see our Mission Statement to learn more about our guiding research questions and objectives.
Mellon Initiative Team 2016-17
Co-Principal Investigators:
Sunaina Maira
Robert Irwin
Mellon Visiting Assistant Professors:
Maurice Stierl
Cristina Jo Pérez
Mellon Graduate Fellow:
Upcoming Events
"Un-Stories"
Sunday, May 7

, 7:30PM
Della Davidson Studio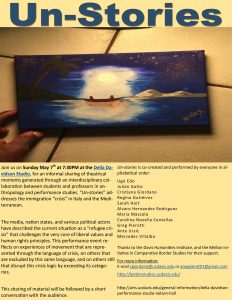 Un-Stories: an informal sharing of theatrical moments generated through an interdisciplinary collaboration between students and professors in anthropology and performance studies.
"Un-stories" addresses the immigration "crisis" in Italy and the Mediterranean.
Statements
As the members of the UC Davis Comparative Border Studies Mellon Initiative:
We oppose Donald Trump's Executive Order banning Syrian refugees indefinitely, and temporarily banning all, including Central American, refugees from entering the US. As exclusion of and restrictions on migrants and refugees of color from societies devastated by US military and economic interventions have a long history in the US, we denounce the recent ban on travel by Arab and African nationals from seven Muslim majority countries as a racist and Islamophobic act. While the ban may be temporarily withdrawn, it is clear that it is part of Trump's ongoing criminalization of Muslim, Arab, and Latinx immigrants and communities and his xenophobic policies of border control.
We condemn the new administration's attacks on undocumented and Mexican migrants and its plans to continue the long history of border fortification and militarization at the southern US border. We strongly oppose the administration's insistence on expanding the existing border wall, tripling the number of ICE agents, expanding the category of "criminal" to include those migrants who have never been convicted of a crime, and drastically accelerating the violent detention and deportation of undocumented migrants. The US border regime is fundamentally racist and the administration stokes a politics of fear based on mobilizing xenophobia and the garrison mentality of a settler colonial state.
We refuse calls to "take back control of our borders and our country" as they elide indigenous sovereignty, paving the way for this administration to further prioritize corporate profit over the self-determination and survival of Indigenous communities. This refusal to acknowledge indigenous concerns is evident in the recent approval of the Dakota Access Pipeline in opposition to the demands of the Standing Rock Sioux Tribe.
As border studies scholars, we are deeply troubled by the expansion of the military- and prison-industrial complexes into the domain of border policing. We strongly oppose the privatization of border enforcement as part of a system that allows security corporations to profit from the violent detention of migrants and refugees as well as the outsourcing of border surveillance and policing to US and international corporations.
We recognize that the US border regime is only one of many that shares technologies and strategies of containment, exclusion, counterterrorism, surveillance, policing, and racial violence around the world. This larger network of migration control has had detrimental consequences for the freedom of movement and for migrant rights around the world. We condemn the imperial, racialized, and violent exclusion of migrants globally, as starkly visible in places such as Israel, Australia, the European Union, Argentina, the Dominican Republic, India, and elsewhere.
We support political resistance to intensified border control regimes in the US and globally and we stand in solidarity with those who continue to transgress violent border obstacles or refuse to be removed, as well as those who are building movements for sanctuary everywhere.
News
Coming out in installments between now and February, a special issue of the digital journal Transas (Universidad Nacional de San Martín, Buenos Aires) on the US Mexico Border: "La frontera México-EEUU: Desplazamientos, contenciones, agencias, movilizaciones" (coedited by Mónica Szurmuk and Robert McKee Irwin), which will feature an article by our Mellon VAP Cristina Jo Pérez on her work on the Border Industrial Complex, and an interview with our other Mellon VAP Maurice Stierl on his impressions of his first visit to the US-Mexico border in Tijuana. Here is a link to the introductory notes to the dossier: http://www.revistatransas.com/dossier-la-frontera-mexico-ee-uu-desplazamientos-contenciones-agencias-movilizaciones/dossier/. Links to installments posted so far can be found at the bottom.