The Mellon Initiative in Comparative Border Studies presents a Spring Symposium on
"Borders: What's Up With That?" Displacements, Belongings, Rights
Friday, April 15, 9:30 am to 4:30 pm
Putah Creek Lodge, UC Davis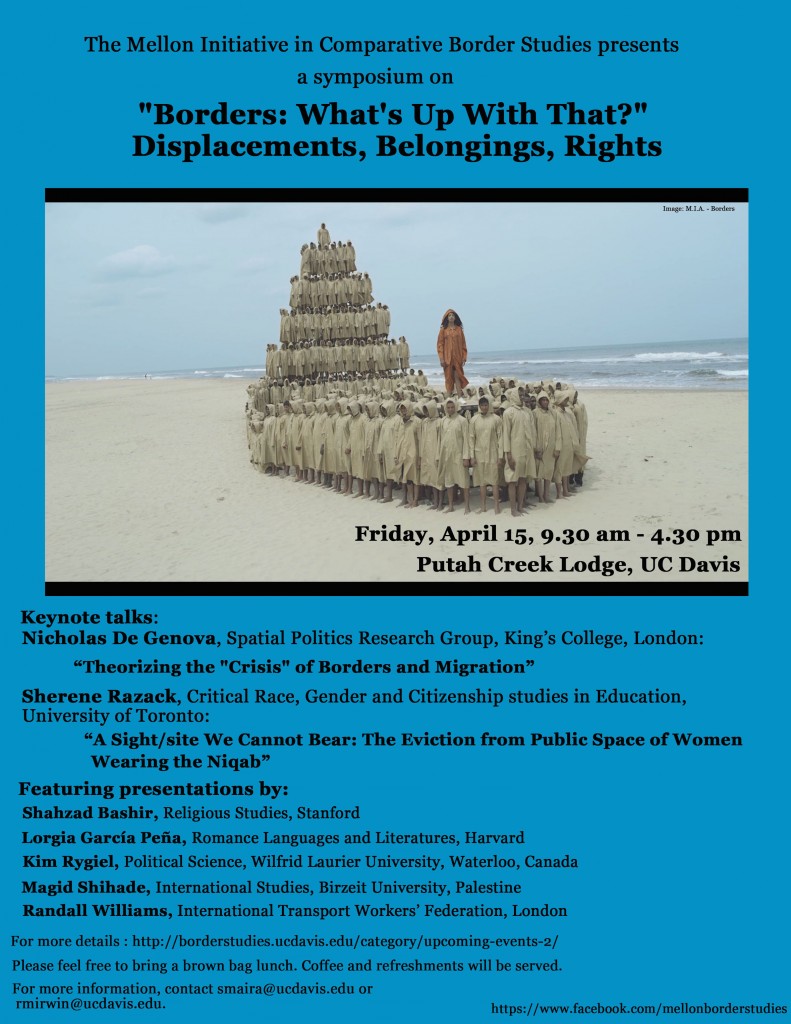 Schedule:
9:30-10:00 – Welcome
10:00-11:00 – Keynote talk
Nicholas De Genova, Chair of the Spatial Politics Research Group, King's College London:
"Theorizing the "Crisis" of Borders and Migration"
11:00-12:15 – Boundaries, Citizenships, Solidarities
Shahzad Bashir, Lysbeth Warren Anderson Professor in Islamic Studies, Department of Religious Studies, Stanford University:
"In Time's Margins: Borderlands Identities and Rights in Historical Imagination"
Kim Rygiel, Associate Professor, Political Science, Balsillie School of International Affairs, Wilfrid Laurier University, Waterloo, Canada:
"Between Violence and Solidarity: The Politics of Citizenship and Rights to Movement"
12:15-1:15 – Lunch
1:15-2:45 – Colonization, Racialized Exclusion, and Sexualized Inclusion
Magid Shihade, Assistant Professor, Abu-Lughod Institute of International Studies, Birzeit University, Palestine:
"Zionism and Israel Beyond Borders: Citizenship, Belonging, and Exclusion"
Lorgia García Peña, Assistant Professor of Romance Languages and Literatures and of History and Literature, Harvard University:
"Black in English: Global Translations of Citizenship in Contemporary Italy"
Randall Williams, Independent Researcher/International Transport Workers' Federation, London:
"From Queer Militancy to Homonationalism: Reflections on the Post-Cold War Reification of (Trans)national Cultural Borders Through the Neoliberal Quest for Sexual Rights"
2:45-3:00 – Break
3:00-4:00 – Keynote talk
Sherene Razack, Distinguished Professor in Critical Race, Gender and Citizenship studies in Education, University of Toronto, Canada:
"A Sight/site We Cannot Bear: The Eviction from Public Space of Women Wearing the Niqab"
4:00-4:30 Wrap-up discussion
Click here for bios and abstracts
Please feel free to bring a brown bag lunch. Coffee and refreshments will be served.
For more information, contact smaira@ucdavis.edu or rmirwin@ucdavis.edu.